Fair Debt Collection
Practices Act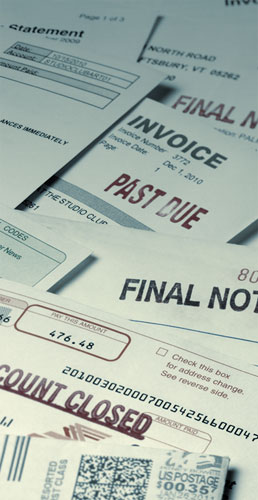 In 1978, the United States Congress found "abundant evidence" that "abusive, deceptive, and unfair debt collection practices" contributed to a high number of personal bankruptcies, broken marriages, lost jobs and invasions of privacy. In response, Congress enacted the Fair Debt Collection Practices Act (the "FDCPA").
In most instances, the Fair Debt Collection Practices Act (the "FDCPA") prohibits debt collectors from:
Calling your friends, neighbors and family about your debts;
Harassing you at work;
Intimidating you;
Lying to you;
Threatening you with lawsuits or with garnishment of your wages; and
Attempting to collect a debt that you do not owe, such as one owed by a family member or a debt discharged in bankruptcy.
If you are being harassed by creditors and/or debt collectors, you do not have to stand on your own. Our firm may be able to initiate a lawsuit under the Fair Debt Collection Practices Act (the 'FDPCA"), in which we may be able to negotiate a reduced debt settlement or have the debts discharged entirely. In addition, if the debt collector's abusive and deceptive practices have caused you embarrassment, mental anguish and other damages, then you may be entitled to compensatory and punitive damages.
If you are the victim of an unscrupulous debt collector, please feel free to contact Kobylinski + Kobylinski. We represent the injured and aggrieved, and we will never charge you a fee for an initial consultation.